Many people want to improve the safety and security of their home with cable window restrictors, but are put off by what they think will be a complicated process. The good news is that fitting a window restrictor is a quick and straightforward task taking just a few minutes when you know how. Follow our DIY window restrictor instructions put together by our experts.
Even though Jackloc cable window restrictors are high performance, fitting them is a quick DIY job. They can easily be fitted to all conventional windows including UPVC, wood, side opening, sash or velux and no special tools are required – we even provide the screws.
DIY Guide to fitting window restrictors
The first step is to ensure that you carefully inspect each individual window to check that they are all in a serviceable condition without any decaying timber, corroding steel or any materials that are in disrepair. It is also important to establish that the window and frame that the restrictor is being fitted to, whether uPVC, aluminium or timber, is able to effectively hold the security screws even when under strain.
Fitting a window restrictor to a decaying or poor quality frame is a bit like fitting a high performance door lock to a rotting timber front door. (Please contact Jackloc staff on 01455 220 616 if you require specific advice or to arrange a free virtual site survey.)
Equipment you will need
To fit a Jackloc window restrictor you will need a drill, a pencil and a measure.
Fitting Instructions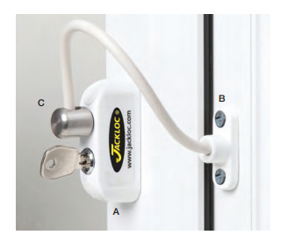 Hold the locking body / unit (Part A) to the fixed window frame at the desired height and use a pencil to mark the screw holes.
Remove Part A and use a drill to create the screw holes.
Tip: We recommend you drill pilot holes first with a 3mm drill-bit.
Screw Part A into place using the two special screws provided.
Next we need to fit the cable foot plate (Part B) with the window at the maximum desired open position
Measure the maximum width of the window opening required. Health & Safety recommend a maximum opening of 100mm.
With the window open to the correct position (the maximum open width you require), hold Part B to the opening window frame, measure again to check again that the opening width is correct and then mark the screw holes.
Close the window and drill the screw holes.
Tip: We recommend you drill pilot holes first using a 3mm drill bit.
With the window still closed, screw part B into the window with the two special screws provided and tighten.
Insert screw cover caps over the screws in part A.
To operate the Jackloc, ensure that the bullet (Part C) is pushed into the unlocked body, and turn the key to the locked position. The key will only release from the locking body when in the locked position.
Video DIY Guide to Fitting Window Restrictors
If you prefer a visual guide you can watch our Youtube video to installing our Jackloc window restrictors here